08 Jun

The Malaysian Reserve: Kontena Nasional on Track in its Transformation Journey
The Malaysian Reserve: Kontena Nasional on Track in its Transformation Journey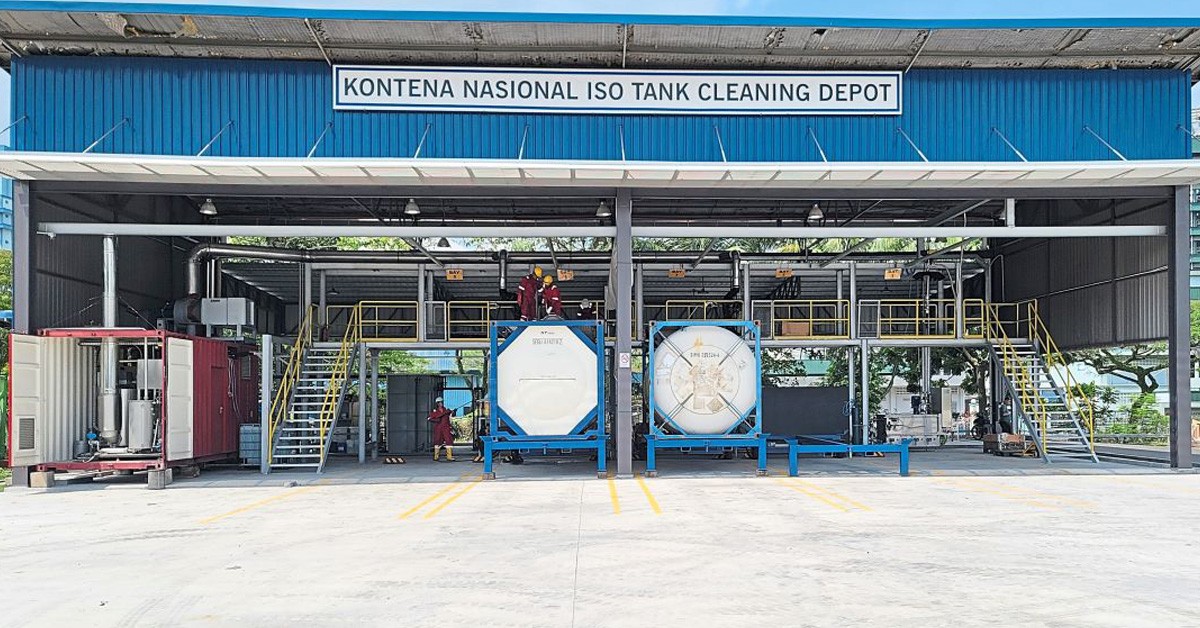 Monday, 5 June 2023 – KONTENA Nasional Berhad (KNB) is on the right track in its transformation journey to become Malaysia's premier supply chain solutions services provider. The wholly owned subsidiary of MMC Corp Bhd has been in the black since 2021 and has implemented numerous initiatives to support this transformation journey, said CEO Nik Muzani Nik Abdul Aziz recently. As of the second quarter of 2023 (2Q2023), KNB has achieved another milestone as its latest innovative investment in the eco-friendly ISO Tank Cleaning Depot in Johor has commenced its operations.
The first of its kind in Malaysia, this ISO Tank Cleaning Depot has set KNB apart from its competitors. It uses a comprehensive cleaning ecosystem from Groninger Cleaning System, Holland. Partnering with Aliran Ihsan Berhad (Air Berhad), another company within the MMC Group of Companies, this automated cleaning ecosystem is designed to manage water collected from the cleaning operation to ensure that any potential hazardous discharge is treated in accordance with the Department of Environment (DOE) regulations and recycled, producing zero water wastage.
Earlier this year, KNB acquired 46 units of new prime movers from leading manufacturers, namely Volvo and Scania as part of its business expansion plan towards achieving logistics excellence and delivering quality services to its customers. The strategy to expand its fleet availability for new and other business segments which require new equipment is also in line with the company's business direction moving forward. Alongside the aforesaid initiative and in ensuring uninterrupted competitive service, six new Steelbro side loaders were procured to offer its customers versatile and cost-effective way of loading and unloading, and moving containers and other cargo. Also thrown into the bargain are eight units of low bed trailer for safe loading and unloading, with enhanced safety features to ensure low centre of gravity for stability to carry heavier loads and movement.
Such requirements are synonymous especially with the oil and gas industry which KNB is focusing on servicing. With these acquisitions, more than 50% of KNB prime movers are either a year old or brand new with latest technology and ultramodern features. This reflects KNB's commitment to increase its service level and carry through its obligation to reduce carbon footprint across the logistics supply chain.
Furthermore, KNB has invested in a new integrated digital system called Kontena Integrated Digital System (KIDS). This new system will offer the right solution, technology, procedure and operations to help KNB achieve operational excellence and improve performance. It includes GPS tracking, route optimisation, space planning and telematics data. The system is currently at the final testing and verification stages before going live soon. In its effort to further strengthen its position, KNB is expanding its storage facility in Pandamaran, Port Klang. Spanning 9,290.3 square metres, the development and building of its new single-storey ambient warehouse will add to KNB's current facilities of 21 offices, 46,451.52 square metres of warehouse space and 3.7 million square feet of yard storage area across Malaysia.
Embarking on becoming a Third-Party Logistics Service Provider (3PL) with 4PL capabilities is also in the offing for KNB. Works initiated towards its launching is a step-up and together with the renewed fleet, additional assets and services, KNB is set to realising its vision of being the Premier Supply Chain Solutions Services Provider in Malaysia.